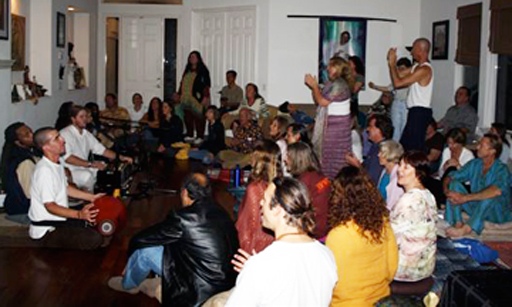 Schedule & Directions
The Himalayan Heritage Satsang is a gathering of devotees from all paths, coming together to share in the joy of worshiping the divine.
Monday Night Kirtans
The satsang gathers on the first and third Monday of every for informal kirtan led by a variety of local kirtan leaders. All are welcome to attend and participate.
Please contact us if you would like to receive email notifications about these kirtans and other kirtans in the Encinitas area.
Satsangs begin at 7:00 pm and end around 9:00 pm.
First Friday

Jyoti Mandir
200 Coneflower Street
Encinitas, CA 92024

Third Monday

Vinay's Home
125 Solace Court
Encinitas, CA 92024
Please note: Locations are subject to change. To be notified of upcoming kirtans and their location, please subscribe to our mailing list.
Special Events
The Himalayan Heritage Satsang also gathers several times a year for special occasions, including Mahashivaratri (all-night chanting to celebrate and worship Lord Shiva) and Guru Purnima (a day dedicated to honoring all gurus). Please subscribe to our mailing list to be notified of these very special events.