Where Souls Dream God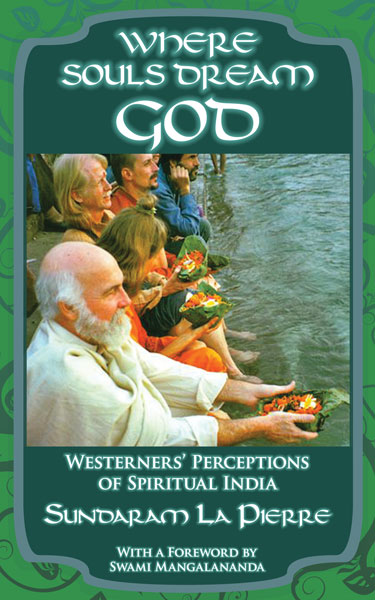 A unique glimpse into the ancient culture of India as seen by Westerners who have adopted that culture as their own.
Anyone who is fascinated by the magic and the mystery of that holy land will find this book intoxicating. If you have ever thought about going there, after reading Where Souls Dream God, you may just have to put your life on hold and leave tomorrow…
Where Souls Dream God includes:
Three poems about India by Paramahansa Yogananda, one of which — "If I Visit India" — is not currently available in an SRF publication. (Used by permission of Self-Realization Fellowship).
A tribute to India by Sri Daya Mata, former president and Sanghamata of Self-Realization Fellowship/Yogoda Satsanga Society of India.
30 stories about spiritual India by Swami Atmarupananda (senior Vedanta Society minister), Swami Mangalananda of the Sri Anandamayi Ma Ashrams in Indore and Omkareshwar, Swamini Umamaiya Udasin, Sadvi Bhagwati of the Parmarth Niketan Ashram in Rishikesh, kirtan singers Jai Uttal, Krishna Das and Vaiyasaki Das, and stories from devotees of many backgrounds and traditions.
The author's own perceptions and feelings about India, including many of his own personal experiences.
Poems by Swami Shantananda Giri of Yogoda Satsanga Society and Swami Nirvanananda Saraswati, the 'Singing Monk.'
"In the Presence of the Saints" about the spiritual legacy of India's saints, masters, avatars and rishis.
Appendices: "India" by Swami Sivananda and "Swami Avdheshananda Giri: Spiritual Practicality in Action" by Rajiv Malik.
Includes approximately 100 photos.
The 17 page glossary is an education in itself!
Where Souls Dream God also includes the full-length audio CD I Love You, India by Swami Nirvanananda. This beautiful CD features songs and kirtans dedicated to India. Tracks include:
Shanti Mantras / Ganesha Sharanam
On the Banks of the Ganges
I Love You, India
Holy River / Mahamantra
Om Namah Kristaya
Moola Mantra
Hara Hara Bhole
Closing Mantras
Song of India
---
From the Book
O India, how I love you! What mysterious force in you calls forth my love? You are not always clean outwardly, your climate is not the best, your heat is unbearable, your rains are miserably uncomfortable, your creature comforts are nil as compared with the West; but you have a towering spiritual strength, and there is the tenderness of the Mother in you as you welcome all visitors to your shores.
Of all the things that happened to me in India — and there were many wonderful things — the most lasting and most important was the softening of the heart, that opening of the heart. There is a place for individuality, but that exaggerated sense of self-importance begins to dissolve in India, and for that I am eternally grateful.
India is, and always will be, a land of living saints. The rich spiritual tradition, and the esoteric knowledge of yoga and meditation that is inherent in the culture, allows evolved souls the capacity for continued spiritual growth and attainment.
To receive Her greatest blessings you must go to India with a spirit of humility and reverence. Then everything becomes magical. In the Bhagavad Gita, Lord Krishna says to Arjuna, *"You cannot see Me with your present eyes. Therefore I give you Divine sight by which you can behold my mystic opulence."* If, through God's grace, you are able to get even a tiny glimpse of that Divine sight, a whole new India is open to you.