Jeevansmriti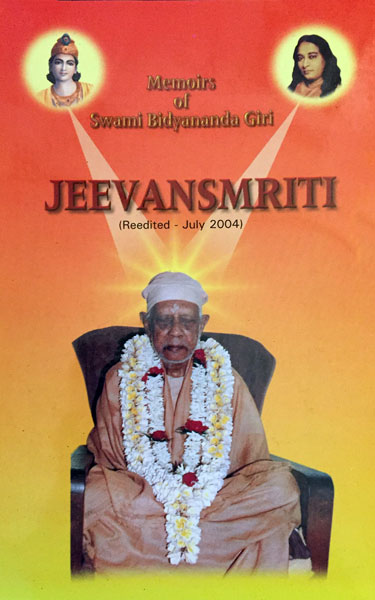 Jeevansmriti, or "Remembering the Soul", is the spiritually power-packed autobiography of Swami Bidyanandaji, a God-realized direct disciple of Sri Sri Paramahansa Yogananda.
---
Offered unto the divine hands of my most compassionate and revered Gurudev Sri Sri Paramahansa Yogananda Giri Maharaj
The autobiographical account of his life was completed at the age of 99 years. Even after crossing 100 years of age, he would get up daily at 2 a.m., take his bath and start his meditation. Those living close to him have seen him do with a few hours of sleep, and sit in meditation in the same posture for 10–12 hours or more. One could get a glimpse of his spiritual attainment when hearing him say, with tears in his eyes: "Now God is singing His name in me and I am listening!"
Sri Swami Bidyananda Maharaj left his body on February 21, 2008 at the age of 105. He was the senior-most monk of Yogoda Satsanga Society of India.
---
From the Back Cover
Srimat Swami Bidyananda Giri is a direct disciple of the world renowned Yogi Paramahansa Yogananda Giri Maharajji. Since his initiation into the immortal technique of "Kriya Yoga", Swamiji has been entirely immersed in a life of selfless philanthropy and uninterrupted prayer.
His 99 years of spiritual life is a testimony of God's unceasing love and compassion. In a very simple and lucid style he has revealed his intimate life in this autobiography.
Every page in this book is a living testament of how the Divine light guides, protects, and bestows on the devotee the grace to achieve enlightenment.